Fight spam and mail abuse! Use your existing gmail-address in a tricky way to generate an arbitrary number of throwaway mail addresses.
Spam, phishing, viruses, bots, ransomware… If you use e-mails as a communication method you are inevitably facing countless annoyances and threats. And the volume as well as quality of these threats is increasing. There is no way to use e-mail and completely and utterly avoid any contact with mail junk. Besides being heedful concerning sender, content, links, and, especially, attachments, there is one thing you can do that may help to decrease the amount of spam and other junk you receive via e-mail: Use throwaway e-mail addresses.
Throwaway e-mail addresses
A throwaway e-mail address is a mail address that is generated for a special purpose and discarded when it has done its duty. There are a couple of options to generate throwaway addresses:
If you are running your own server or hosting your own domain at an ISP create disposable e-mail addresses by using your mail servers catchall functionality.
Use an online service that is specialised on disposable mail addresses like throwawaymail.com, guerrillamail.com, or temp-mail.org.
Use gmail to generate throwaway addresses.
Let's look at how to use gmail to generate disposable mail addresses.
Gmail: Generate arbitrary e-mail recipients with a "+"
A typical gmail address looks like this
abc@gmail.com
Now, to generate a new e-mail recipient you can add an arbitrary string of characters behind abc preceded by a plus "+" sign, e.g.,
abc+xyz@gmail.com
An e-mail sent to abc+xyz@gmail.com is just as well delivered to abc's inbox. And that is all there is to generate arbitrary e-mail recipients with gmail!
Fight e-mail abuse
How do you use a throwaway e-mail address to fight spam? If you register to an online store, say cheapcheapercheapest.com, you would no longer use your regular e-mail address abc@gmail.com but instead something like, e.g.,
abc+cheapcheapercheapest@gmail.com
Now, if cheapcheapercheapest.com got hacked or if they sold your e-mail address to spam-lists etc. potential mail abusers might get hold of this e-mail address which they will use to send their crap to. As soon as spam and other annoying stuff has been sent to abc+cheapcheapercheapest@gmail.com there is just one thing you have to do: Lock e-mails out that are sent to this address keeping your abc@gmail.com inbox clean. Let's see how to do that with gmail.
Lock them out
Gmail is able to apply filter rules to incoming messages. These rules use one or more criteria like sender's e-mail address, addressee, or specific words in the subject to identify an e-mail and apply one or more actions on it like marking as read, forwarding, moving to a folder, or deleting. Let's define a deletion rule for an imaginary spam e-mail by the sender Spam-O-Mat that has been sent to foobar.io+antispam@gmail.com. This is the e-mail in foobar's inbox.
This e-mail is, obviously, very suspicious. We want to see where it has been sent to, i.e., who the exact recipient is. Show the e-mails content by clicking on it. You would see something like this.
We do need the details so click the corresponding "show details"-button just below the sender's name.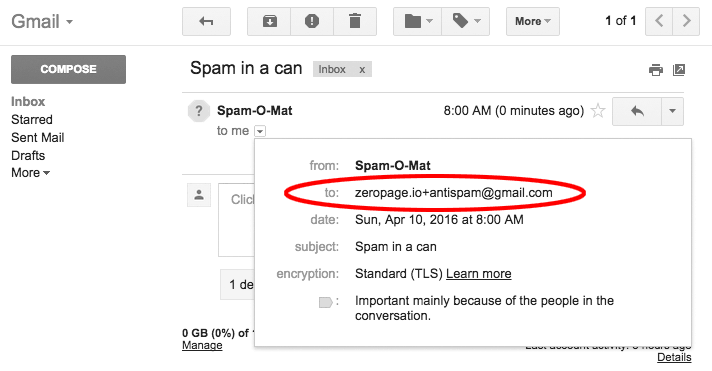 We get a popup window revealing more information about from, to, date, etc. The "to"-field shows who the exact recipient's address. Here we see that this spam e-mail has been sent to foobar.io+antispam@gmail.com. Apparently, it was a good idea to use a throwaway e-mail address! We will define a filter rule to immediately delete all e-mails sent to foobar.io+antispam@gmail.com. Click the "more" button on the right-hand side of the e-mail header bar.
You will see a popup window with a couple of options. Choose "Filter messages like this".
You will see another popup with the filter criteria. The To-field has already been filled with foobar.io+antispam@gmail.com. Nothing else to do here, just click on "Create filter with this search »".
The final step where you choose what to do with the e-mail. Activate the option to "Delete it". I suggest to activate "Also apply filter to 1 matching conversation" too so this new rule is also applied to the e-mail we started from as soon as the filter rule has been created.
Click "Create filter" when you are done. And you are done.
This looks and reads more complicated than it is. Once you know what to do it's just a matter of seconds to have a filter rule in place. Keep your inbox clean!